Yesterday morning I had planned on making my favorite pulled pork recipe. I usually substitute the pork for beef, and it comes out great. I'm not sure where it's gone, but my slow-cooker cookbook that has that recipe in it is missing. What to do? I had the Crock pot out, I had the beef, and I needed something to put in there with it. This is what I came up with.
Ingredients:
2 - 2 1/2 pounds beef
1/3 cup apple cider vinegar
1 cup water
1 15 oz can Fire Roasted Tomato Enchilada Sauce
6-8 Flour Tortillas
1 15 oz can Refried Beans
1 15 oz can Medium Enchilada Sauce
Mexican blend shredded cheese
I used 2.4 pounds of beef



Place beef in Crock pot. Add water, apple cider vinegar and the fire roasted enchilada sauce.
Everything placed in Crock pot.
Cover and cook on high 1-2 hours, and then cook on low until done. I cooked mine about 6 hours on low.
Remove beef from the Crock pot and place on a large platter. Take 2 forks and shred the beef.
Shredded beef
I poured a few ladles of the liquid left in the Crock pot over the shredded beef so it would add even more flavor to it.
At this point, preheat the oven to 350 degrees.
Using a butter knife, spread refried beans on a tortilla.
Refried beans spread on a tortilla.



Using a slotted spoon to drain away the excess liquid, scoop up some shredded beef and place in center of the tortilla. Spread out and sprinkle some cheese on top.
Roll up the tortilla and place in a 13 x 9 inch pan. Repeat until the pan is full.
Pour the can of Medium Enchilada Sauce over the rolled up tortillas, and then sprinkle cheese on top.
Bake in the oven for 20 minutes or until heated through. They came out great! I'm not trying to brag (okay, maybe a teensy-weensy bit), but my Fiancee, who loves my cooking, said after dinner that this was the best meal he had EVER had. Well, Yay! He loves spicy food, so that probably helped me out. :-)
I hope you'll give it a try.
~ Thanks for stopping by! ~
Jaime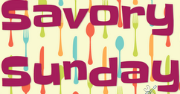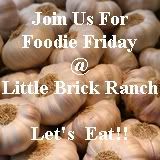 Please join in the fun at
these fabulous parties
!!